Ingredients (Makes 4)
• 4 bread buns
• 4 lettuce leaves
• Capsicum (1 whole for slices, 4 x stems)
• Tomato
• 8 cheese slices
• 4 meat patties
• 4 pickles
• 1 red onion
• Tomato sauce
• Mayonnaise
Method
Starting with your veggies, remove the stem of the capsicum and put aside. Then slice the capsicum, tomato, and red onion from top to bottom to keep their shape intact. Slice the pickles lengthways, then clean and dry off the lettuce leaves so they're ready to go.
Prepare your meat of choice, frying evenly on both sides. You may want to try our 'Heavenly Burger' patty recipe. While the meat is cooking, prepare the buns; brioche is always a goodie. Slice in half and scoop the bulk of the bread out of the top half. You can toast the buns in the oven till they're a little crispy, then using a sharp knife (parents), cut two triangles out of the top half to create the Jack-o-lantern's eyes. Once the meat is ready, it's time to stack it all up.
Start with the bun base and mayo, followed by lettuce, tomato, and onion. Top them with a 'bloody' tomato sauce and patty, then place two slices of cheese, making sure to alternate the corners for a toothy effect. Finally, add the pickles, the hollowed-out bun, and capsicum stem. And there you have it, a Spooky Jack-o'-lantern Burger.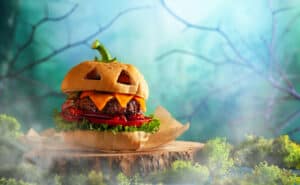 Tip: For delicious burger patties, you could try out this 'Heavenly Burger' recipe (makes 4):
• 500g minced beef – Topside is recommended, as it's not too fatty, but has enough to add flavour and keep your patty from drying out during cooking.
• Salt and pepper (to season)
• 1 onion peeled and finely chopped
• 2 x garlic cloves, minced
• 3/4 cup of breadcrumbs (recommended: make your own from day old bread)
• 1 egg (lightly whisked)
• 1 tbsp Italian herbs (Dry) or ¼ cup fresh parsley
• 2 tbsp BBQ sauce Mix all of the ingredients together in a large bowl.
Divide the mixture into four parts then form each part into a burger patty. Fry the burger patties evenly on both sides until evenly cooked through.