Traditional Greek Easter Bread with a chocolate twist (Tsoureki)
INGREDIENTS:
1.1kg plain flour (bread flour with a high protein content is preferred)

350g sugar

400ml milk (lukewarm) – 100ml + 300ml for 2 steps in the recipe

100g butter

150g dark chocolate

1 tbs vegetable oil

4 large eggs

½ tsp vanilla extract

100g almond slivers or flaked almonds

Egg wash: 1 egg whisked with 1 tbs water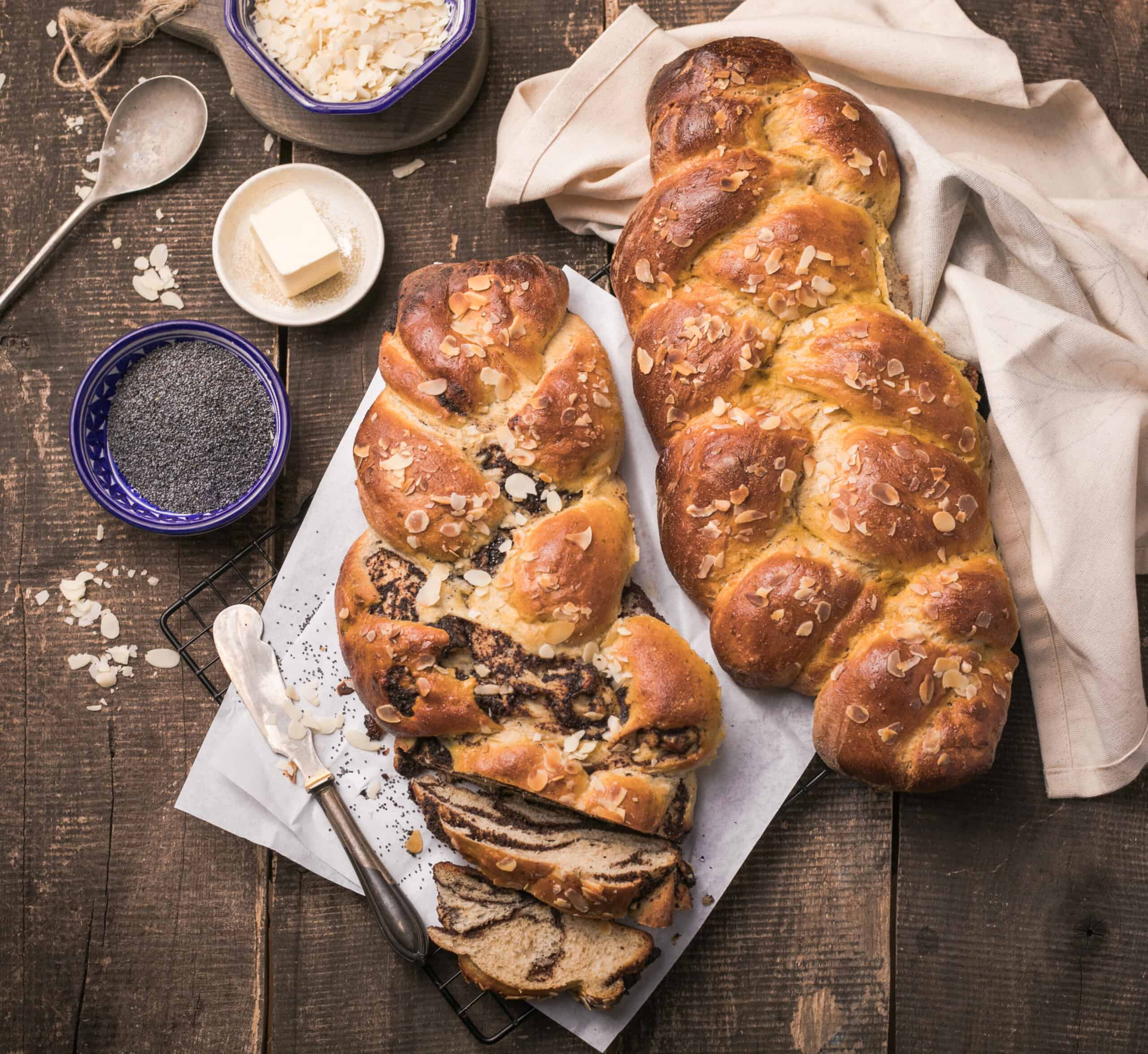 Dissolve the yeast:

in a small bowl or glass jug, combine the yeast with just 100ml of warm milk. Add just 50g sugar and 100g of flour, whisk and let stand for 10 minutes.

In a separate bowl, melt the butter and keep aside.

In another bowl, melt the chocolate in the microwave in 30 second bursts, mixing until it's smooth and put aside.

In a large saucepan, gently warm through the remainder of the milk (300ml), sugar and oil until

just

warm. Remove from the heat and add the eggs, salt and vanilla. Transfer this to a large bowl and gently mix in the yeast mixture (from step 1).

To make the dough:

Gradually add flour to this bowl mixing to form a soft dough, then slowly add the melted butter, kneading until it is incorporated well into the dough and no longer sticks to your hands.

Divide the dough into two equal parts. One half of the dough will remain vanilla flavoured and the other half will be chocolate. To half the dough, add the melted chocolate and knead for 3 minutes to incorporate it well.

Proof the dough

: Cover each bowl with cling wrap, place in a warm spot and allow the dough to rise (first proof) for approximately 40 minutes.
Prepare the dough for plaiting:

to get that lovely, plaited design in your Tsoureki bread, follow these steps:

Divide the vanilla dough into 3 equal portions

Divide the chocolate dough into 3 equal portions

Then divide each of those portions into another 3 equal smaller portions rolling them out into 40cm lengths. At this stage you will have 9 vanilla lengths and 9 chocolate lengths of dough.

Now combine 3 chocolate lengths (pinched together) with 3 vanilla lengths (pinched together) and twist the two doughs to form a marbled length. You will end up with 3 marbled lengths of dough. Now plait the 3 lengths together to complete. 

Place this braid onto your baking sheet and into a warm place to proof again for 30 minutes and in the meantime, pre-heat oven to 160°C (fan-forced).

After this second proofing, brush the top of the bread with egg wash mixture, sprinkle with almonds and bake in the oven for 35-40 minutes. To avoid the Tsoureki browning too quickly, cover with aluminium foil halfway through the cooking time, close oven and continue to bake.
Easter Profiteroles
INGREDIENTS
For the choux pastry:
1 cup water

1 tbs white sugar

Pinch of salt 

100g unsalted butter

1 cup strong plain flour (has a higher protein content, also called bread flour)

½ tsp vanilla extract

4 large eggs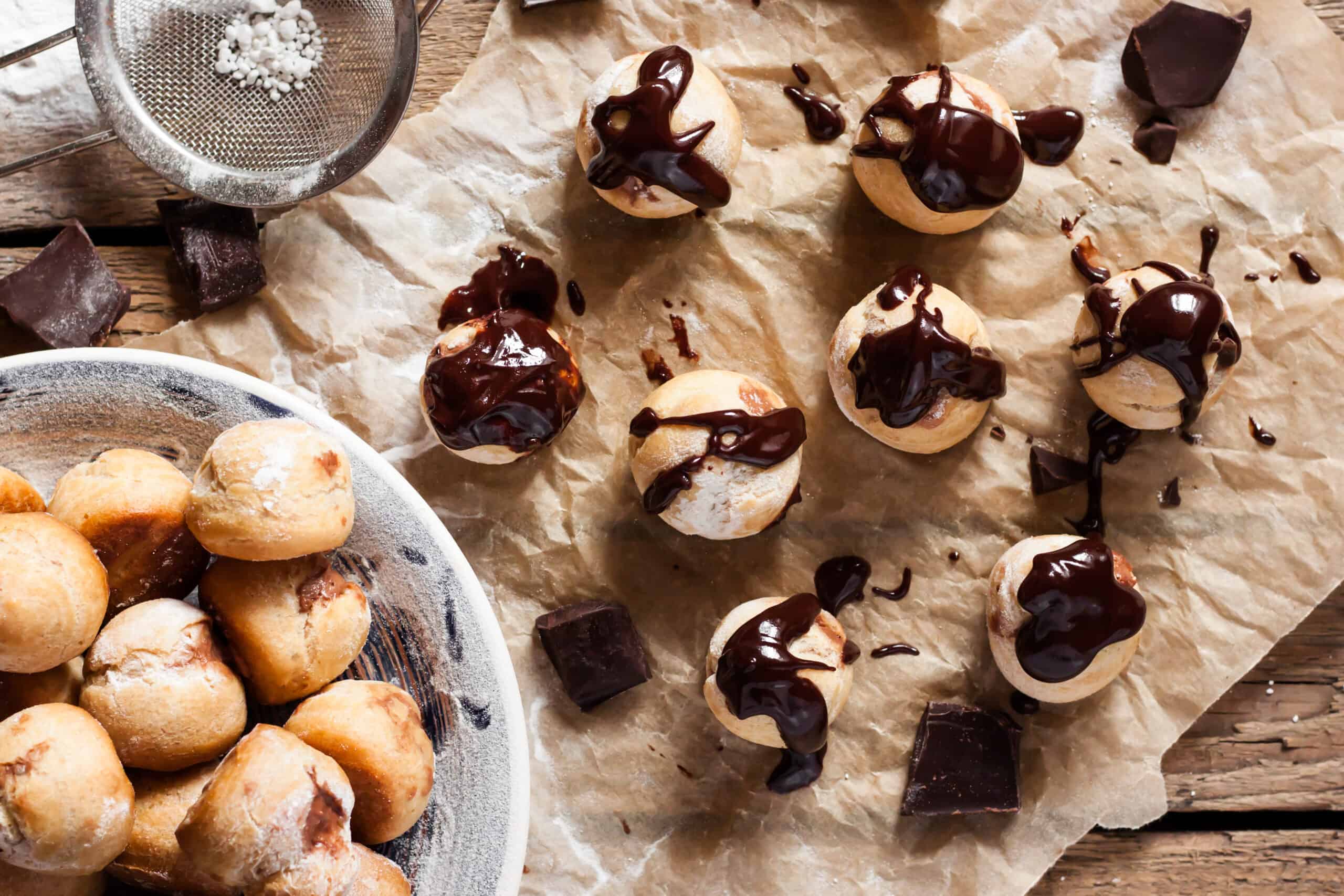 For the creamy custard filling:
4 egg yolks (NB: reserve the whites for another recipe)

¼ cup castor sugar

4 tbs

McKenzie's Cornflour

600ml full cream milk

¼ cup (extra) castor sugar (this is added to the milk)

1 tsp vanilla extract
For the chocolate sauce (ganache):
250g dark chocolate (milk chocolate is also suitable)

1 cup thickened cream
METHOD
To make pastry cases:
Preheat oven to 190°C (fan forced), grease and line two baking trays with baking paper.

Place water, sugar, salt, and butter into a saucepan over medium heat and stir to melt the butter. When the water is starting to boil, remove the saucepan from the stove and add the flour all in one go. Stir vigorously with a wooden spoon and when the flour has absorbed the water, return the pan to the stove.

Cook the dough 1-2 minutes (over medium heat) stirring until the dough forms a ball and pulls away from the sides of the saucepan. The dough will be thick enough to hold up a regular tablespoon. If the tablespoon falls, cook for a further 1 minute).

Transfer the dough into a bowl and allow to cool for 10 minutes. Add the vanilla extract and then with a hand-held mixer, mix the dough while adding the eggs one at a time, mixing well after each addition.

Place dough into a piping bag (or use a teaspoon) and pipe or spoon 2 teaspoons of dough, 5cm apart on each tray. (NB: with a damp finger, flatten the peaks on any of the profiteroles, this will give each one a nice, rounded shape).

Bake 2 trays at a time for 30 minutes. Remove from the oven, prick each shell with a skewer and return to the oven to dry out for another 5-7 minutes while baking.

Remove from the oven, transfer to a rack, and allow to cool down completely before filling them with custard and drizzling them with chocolate sauce.
To make custard filling:
In a medium size bowl, whisk together the egg yolks and sugar, then add cornflour.

In a medium saucepan over medium heat, add milk, sugar and vanilla and heat until it starts to simmer.

Slowly add this hot milk mixture to the egg and sugar mixture whisking well between each addition. Pour mixture back into the saucepan and whisk continuously until the mixture thickens into a thick custard consistency.

Remove from heat, pour into a bowl, and press cling wrap into the surface to stop it from skinning over. Refrigerate for 3-4 hours until set.

Spoon custard into a piping bag fitted with a small nozzle and fill each profiterole with the custard.
To make chocolate sauce (ganache):
In a microwave safe bowl, add chocolate and cream. Microwave for 30 seconds at a time (4 x times) stirring in between until well combined and a smooth consistency for dipping. 
Assemble:
Dip each profiterole into the chocolate sauce. For an extra Easter treat, top each one with a small chocolate egg.
Best consumed on the same day as baking.
Tip: all-purpose plain flour can be used to make profiteroles. This recipe suggests using a strong bread flour, this is simply plain flour with a higher protein content that will give the profiterole shell more strength.
Hot Cross Bun Pull Apart  
INGREDIENTS 
4 ¼ cups (640g) plain flour (bread flour if available)
3 tsp McKenzie's Bakers Yeast
½ cup (110g) caster sugar
2 tsp McKenzie's Mixed Spice
2 tsp McKenzie's Ground Cinnamon
½ tsp salt
50g unsalted butter, melted and cooled
1 ½ cups full cream milk (warmed in microwave for 45 seconds)
1 egg, room temperature
1 ½ cups (210g) sultanas or chocolate chips
Zest of 2 oranges
Extra ¼ cup plain flour (if needed for sticky dough)
 Syrup:
¾ cup butter
¾ cup brown sugar
1 tsp vanilla extract
1 tsp cinnamon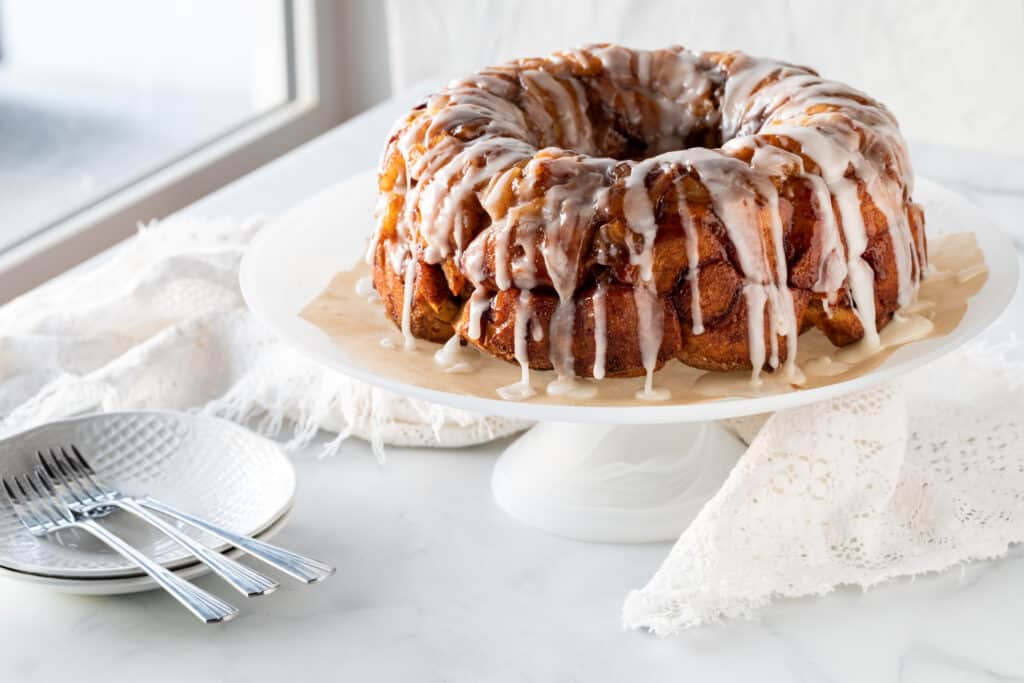 METHOD
Combine flour, yeast, sugar, mixed spice, cinnamon and salt in the bowl of a stand mixer. 

Attach a dough hook in the mixer and add butter, milk, egg, sultanas and orange zest to the flour. Mix until a smooth elastic dough forms about 5 minutes. If dough is sticky and doesn't come away from the side of the bowl, add another ¼ cup flour.

First rise:

Leave dough in the bowl and cover with plastic wrap. Place in a warm spot to rise until doubled in size. Note: this can take anywhere between 1 hour to 1 ½ hours depending on how warm it is.

Grease a large Bundt pan with melted butter.

Remove plastic wrap from the bowl and punch down the dough to deflate.

Dust work surface with flour and knead for one minute, then cut dough into pieces and roll into golf size balls.  

Make the syrup by melting the butter and whisking in the sugar, vanilla and cinnamon.

Roll each ball of dough into the syrup and line them up randomly in the bundt tin.

Second rise:

let dough in bundt tin sit for another 30 minutes to allow the dough to rise again.

In the meantime, pre-heat oven to 180°C. Place the bundt pan in the oven and bake for 30 minutes or until top is a golden brown. 

Remove from oven and allow to cool for just a few minutes before turning the ring onto a plate to serve.
Tip: Best eaten warm and on the day. Simply pull off bits of hot cross bun from the ring and enjoy.  The pull apart can also be enjoyed the next day by warming in microwave for 20 seconds at a time.