Reduce, Reuse, Recycle – What's the Point? 
Take a moment and think about all the items you and your family buy on a daily, weekly – even yearly basis. Now, consider the over 25 million other people that live in Australia and how many products they're also buying… that's a lot of items! And how many people do you think are actively trying to reduce, reuse and recycle? Not enough! Overall, the majority of products are sold in packaging that is thrown out, adding to the high volume of rubbish we already have on our planet. A large amount of packaging and products are made of plastic and other materials that are harmful to our environment.
For example, plastics take years to break down and can release dangerous chemicals into our ground and water. Rubbish is slowly choking our waterways and hugely affecting wildlife all over earth. That's why it's so important that we reduce how much waste we produce, reuse items as much as possible and recycle everything that we can. It's not that difficult – Reduce, Reuse, Recycle! A helpful phrase to try and remember.
How We Can Each Reduce, Reuse and Recycle 
Many of us simply put our recycling bin out and let it be taken away, not to be seen by us again. But remember, even though it's gone from our homes – it's gone somewhere else and hasn't disappeared. Less than ten percent of the 3.5 million tonnes of plastic Australians throw out each year is recycled. We can all do our part to help. Here's a few simple ways to practice reducing, reusing and recycling in your life;
Replacing plastics where possible, such as plastic shopping bags with reusable bags.
Avoid buying and using disposable goods when you could buy a version that is reusable. This includes things like plastic straws, plastic water bottles, disposable razors, and more.
Buy recycled items / second-hand wherever you can, including clothes.
Instead of throwing out food scraps, use it for composting! You can even plant your own veggie garden and use your compost in it.
Use paper as little as possible. Many stores offer digital receipts and we can receive bills online instead of in the mail. Try not to use paper plates and cups etc.
What CAN I Recycle?
The majority of recyclable products can be broken down into two categories within most Australian suburbs. These are Containers/packaging and paper/cardboard.
Items that cannot be recycled at home:
Plastic bags
Polystyrene such as foam packaging/food trays
Window glass, light globes, mirrors
Pyrex, crockery, drinking glasses
Sharps and syringes
Nappies
Waxed or cardboard containers with food scraps, tissue paper and napkins cannot be recycled
This is a good checklist to see what your council does and does not recycle. Some of them have good websites now but, from our research, there are differences and there isn't a one size fits all approach to recycling
Visit your local council's website for recycling days and extra recycling bin information.
Fun Recycling Activities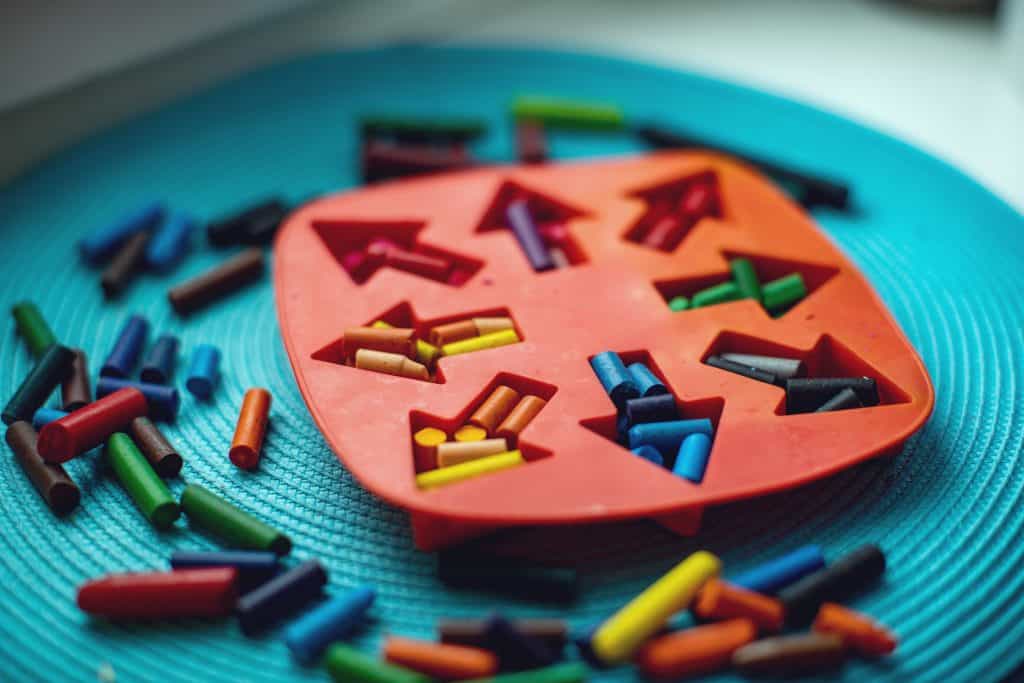 Recycled Crayons
What You Need
Crayons
Silicone
Baking Tray
Method
Pre-heat oven to 190°C.
Peel any paper off the crayons. You might need to break them into smaller pieces if they're longer than 3cm. Place broken crayon pieces into the moulds. You can melt crayons into individual colours or mix them together for a rainbow crayon.
Place moulds in the oven for 10 – 15 minutes. Remove the pan, let it cool, then take out your new crayons!

Repurposed Tin Can Bowling
What You Need
9 or more tin cans
Acrylic Paints, any colour
Large paint brush
A medium to hard ball of some kind
Method
Peel any labels off the tin cans. There are products you can use to remove adhesive still on the cans, such as RapidStick Label and Adhesive Remover, Goo Gone, Glue Remover and more.
Paint the cans whatever colours you would like. Let them dry once painted for at least 20 minutes.
Now all you need is a ball and a flat surface. Stack the cans and away you bowl!

Repurposed Egg Carton Sea Turtles
What You Need
1 egg carton
Green paint
Googly eyes or a black marker
Green pom poms
Green cardboard or plain cardboard
Paint brush
Hot glue gun and glue sticks
Method
Use scissors to cut out the turtle shell from the egg carton (adult help may be needed). It's easiest to use the part that an egg would sit in as the shell.
Cut flippers and a tail out of your cardboard that are the right size for the shell, following our outlined template. Paint the cardboard and shell green. Let them dry.
Glue the flippers, tail and pom pom onto the shell (see picture above).
Glue the googly eyes onto the pom pom or 'head' of the turtle, otherwise use a marker to draw your turtle's eyes.
The Damage of Pollution on Our Planet's Sea Life
Imagine having a species bigger than you putting harmful rubbish and pollution into your home. Sound bad? Well that is what we are slowly doing to our marine life.
Australians alone use 130 kilograms of plastic per person, per year. This year over 9 million tonnes of plastic will enter the world's oceans.
Sadly, 90 per cent of ALL seabirds and 52 per cent of turtles have plastic in their stomachs, and around 1 million sea creatures die from plastic each year. Rubbish and plastic both float and sink all through the ocean. It's not uncommon at all for marine life to get entangled in this pollution, which can then stop them from swimming, moving or even breathing properly and being able to find or eat food. Sometimes when marine life think they have found food, it ends up being plastic! To a whale, dolphin or turtle – a plastic bag looks a lot like a squid or jelly fish!
Let's take care of our oceans and our marine friends. It's never too late to start reducing, reusing and recycling.