Ingredients (Makes 1 Platter)
• 2 bananas
• 250g strawberries
• 3 mandarins
• 1 red and 1 green apple
• 1 kiwifruit
• Sultanas
• Mini marshmallows
• Green grapes
• Mini dark choc drops
• White choc buttons and choc drops
• 2 Tbsp peanut butter
• 1 cup Greek yoghurt
• 200g cream cheese
• 2 skewers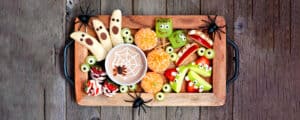 Method
Beginning with the strawberry yogurt dip, blitz up a handful of strawberries (fresh or frozen) until they resemble a puree. Then blend softened cream cheese and yoghurt. Combine the two mixtures and refrigerate while preparing the fruit.
To make the 'ghostly' bananas, peel and halve. Gently embed dark choc drops as eyes, and sultanas as mouths.
To make the googly grape eyes, halve the green grapes, embed some white buttons and dark choc drops. To help stick the drops together, you can heat up one side to melt and fuse them together.
For the apple creatures, slice the apples into quarters (setting aside one green apple quarter), before cutting a small segment out of each to mimic an open mouth. Add peanut butter to half of them and fill with mini marshmallow teeth. For the remaining half, add sliced strawberries (to make the tongue) and some mini marshmallows. You can also use peanut butter to help stick them together. Use white chocolate drops and dark chocolate drops for the eyes. For the red apple 'mouth monsters' pictured, no choc drops are necessary.
Now onto the Jack-o'-lanterns. Peel the mandarins, and thinly slice the remaining green apple to use as stems.
For the kiwifruit 'Frankenstein's', peel, slice in half, and skewer them. Melt some dark choc chips in the microwave, and pipe on to make the hair, mouth, and scars. Then pipe a drop onto some mini marshmallows and attach to the kiwifruit using the melted chocolate as adhesive. If you don't have a piping bag, you can add the mix to a zip lock bag, push it into the corner and snip the tip of the corner with scissors (remembering you want only a fine line, so don't snip too much).
For the strawberry 'mummies', melt white chocolate in the microwave then drizzle in a zigzag. Add dark choc drops before it sets to help them stick.
Once the dip is set, using the melted white chocolate, pipe a web on the surface and create a spider using a whole sultana for the body, and slices for the legs.
Don't forget to also check out our Halloween crafts, Spoon Bats and Fluffy Halloween Slime