Learning to scuba dive can take you and your family
all around Australia, and abroad!
As a parent, there comes a time where no matter what you suggest as an activity to your children, it's met with a 'nah'.
It's a frustrating and worrying period where you realise they'd prefer to connect with technology or their friends rather than with you. As a parent to a 10 and 13-year-old, I realise that I don't have many years left to hang out with them.
Before I know it, they will be moving out of home, and living their own life. So, I decided it was time to find a new family passion and connection that gets us going on more adventures, meeting like-minded people, and learning about our environment and the incredible marine life in our world. It was time to leave the land and explore a new world under the ocean with scuba diving.
Learning to scuba dive is a skill for life, it can take you and your family all around Australia, and if you wish, abroad. You may think that diving is an activity purely for adults, however, the PADI Open Water Diver Course is open to everyone over the age of 10 that meets health and fitness requirements.
If you have a pre-existing medical condition like asthma or diabetes, you will need medical clearance from your GP, or complete a dive medical with a Dive Doctor. You also need to be able to tread water for 10 minutes, and swim 200 metres without stopping.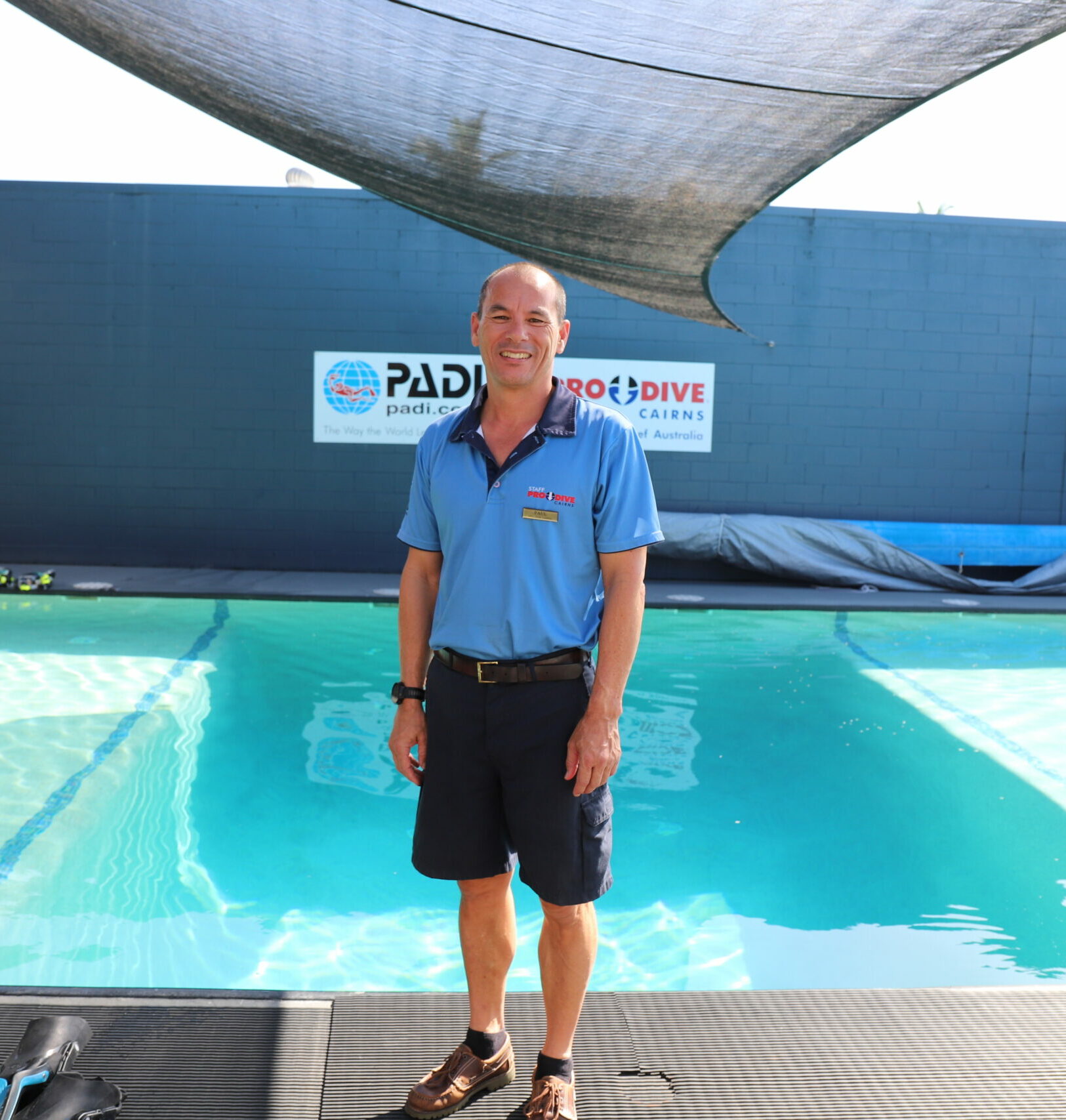 If you or your family have ever considered scuba diving, we teamed up with PADI and Pro Dive Cairns to share everything you need to know to get you and your family certified.
PADI is the world's leading scuba diver training organisation with over 6,600 dive centres and resorts across the globe, and over 28 million people are certified PADI divers.
The course is 4 days and includes an e-learning component that you do online in advance. The e-learning course includes 5 online learning modules to learn which teach you all of the fundamental theory and dangers of diving. Then, there is a 50-question exam to get you all prepped.
The e-learning is fantastic, you need to get 75 percent to pass – Sean aged 10 got 94 percent, Jordan aged 13 got 98 percent, so it's suitable for all ages, and also available in many languages. I have never seen my children so committed to learning something new, and proud of themselves too.
Day One
Our first day of learning to dive was a day in the Pro Dive Cairns pool where we learnt how to use the scuba equipment, what to do in an emergency should our equipment fail, different underwater signals, and so much more.
It was a full day of learning, and we also went to the dive shop to be fitted with our equipment to use over the next three days, and to prepare us for our training in the ocean.
Most things are provided so it's important to pack light for the floating hotel on the ocean. All you need are pyjamas, two towels, swimmers, toiletries, three sets of clothes, and something warm as the aircon on the boat gets quite chilly.
Some sea sickness medication, sunscreen, and your favourite non-refrigerated snacks are also a good idea.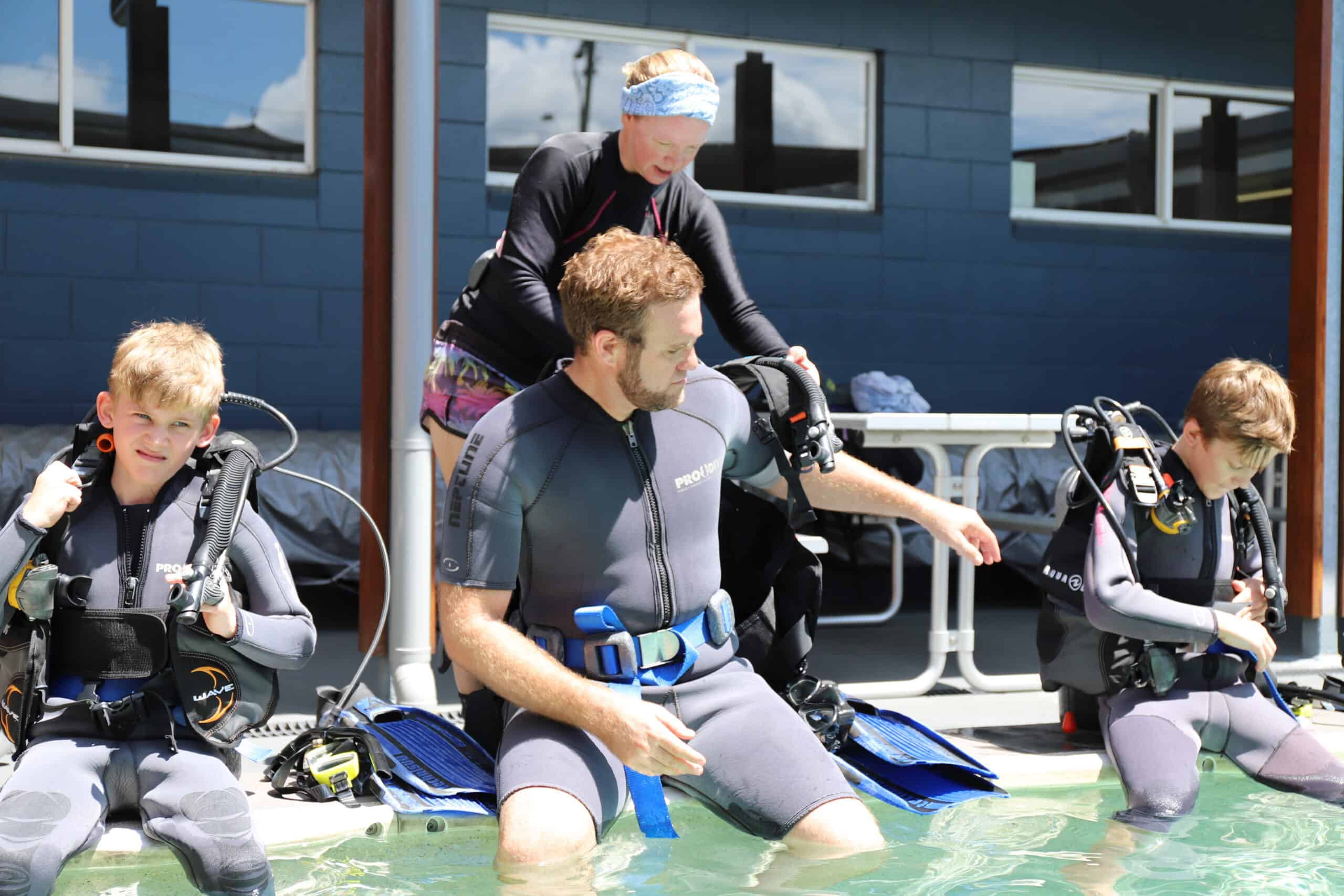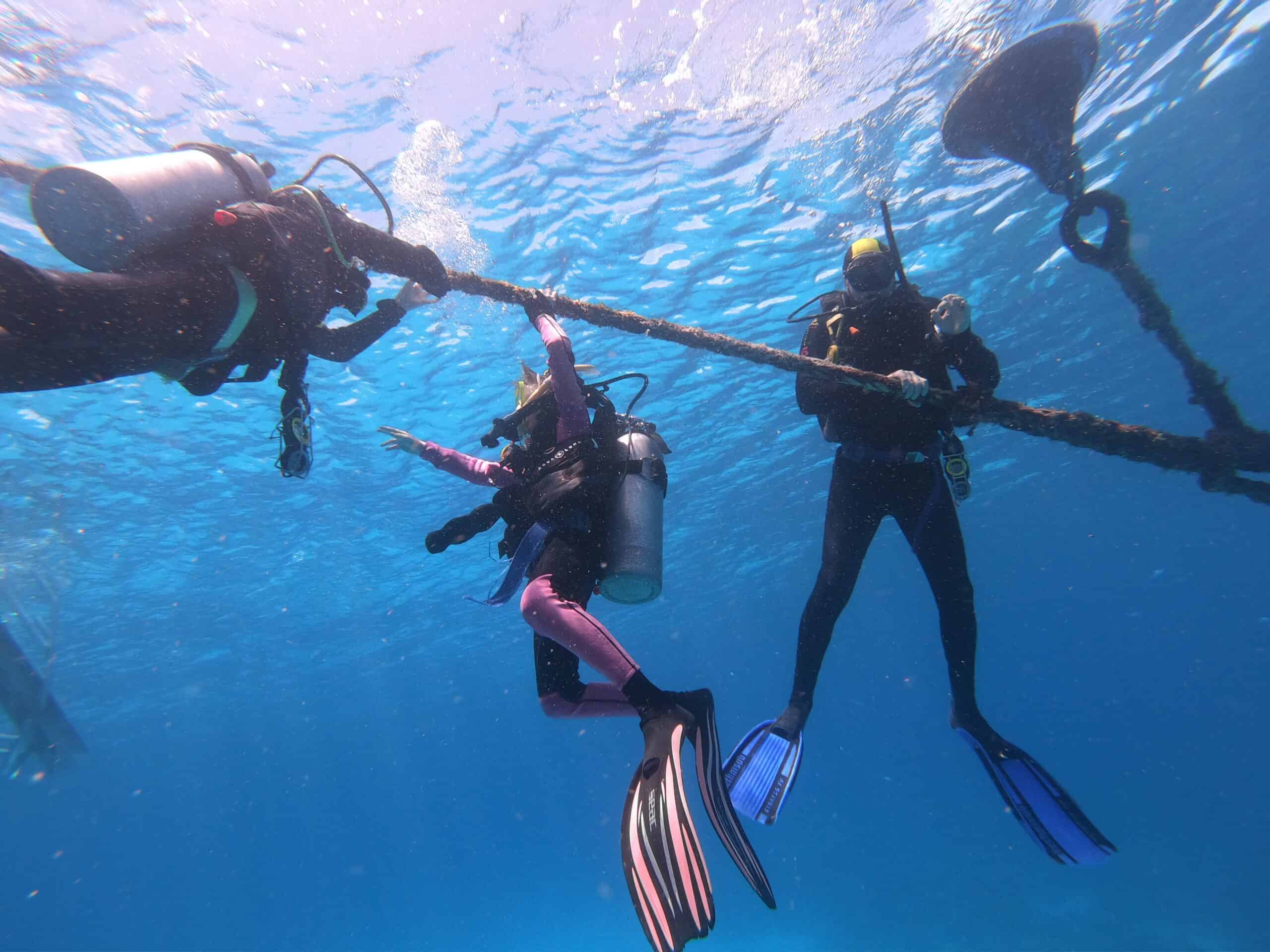 Day Two
6.00am and it's time to head to our home away from home for the next two nights and three days. The Pro Dive Cairns Scubapro 3 boat has an array of twin rooms that are perfect for solo, duo, and family travellers.
There's a maximum of 32 passengers and 6 crew members, so it's a nice intimate setting of people, from beginner to advanced, some are completing courses, others are here to dive and enjoy.
All meals are provided and the cook onboard can cater for gluten, dairy, and nut free requests, and vegans. Served buffet style, you'll never go hungry, and the food was amazing.
We arrived at the reef ready for our first dive at 11.00am. Our patient Dive Instructor Lucy, dove straight into our lessons for two incredible dives that day where we saw some amazing marine life including Clown Fish, Hammerhead Sharks, Giant Trevally, Bumphead Parrot Fish, huge Clams, Stingrays, Trigger Fish, Puffer Fish, Maori Wrasse, and lots more.
It was an incredible day, and we were fed like Kings and Queens in between dives. 
Those that were certified were also able to do a night dive, and saw lots of action in the water. The boys made friends with all of the passengers, playing an array of games and having an absolute blast.
They also spent time looking at fish charts and books, learning about the incredible marine animals they had seen that day. Bedtime came around before we knew it, and our air conditioned private rooms were a perfect place to retreat and rest up.
Day Three
The day started with an incredible sunrise, light snacks and then our first dive of the day at 7.30am. We saw some more incredible marine life and then headed back to the boat to be greeted with bacon and eggs for breakfast.
We then had plenty of time to relax on the top deck and catch some rays, play some games, and read up on the marine life around us.
Today we completed our fourth dive and passed with flying colours, which means we are now fully certified open water divers! This means we can now dive with another certified diver, a buddy, to 18 metres underwater (12 metres for Sean until he is 12 years old). 
And again, the food was spot on. Now we are certified we got to do another two dives that day (totalling 4 dives), one of which was our first night dive that you do with torches.
It was such an amazing and thrilling experience where many of the hunting fish like Trevally come right up to you and your torch and hunt little fish that are attracted to your light.
Many marine animals that you don't see by day are seen at night like huge coral crabs, crayfish, sleeping turtles, and luminous plankton that light up the ocean. It was a huge day doing 4 dives, and let's just say that we all slept very well that night.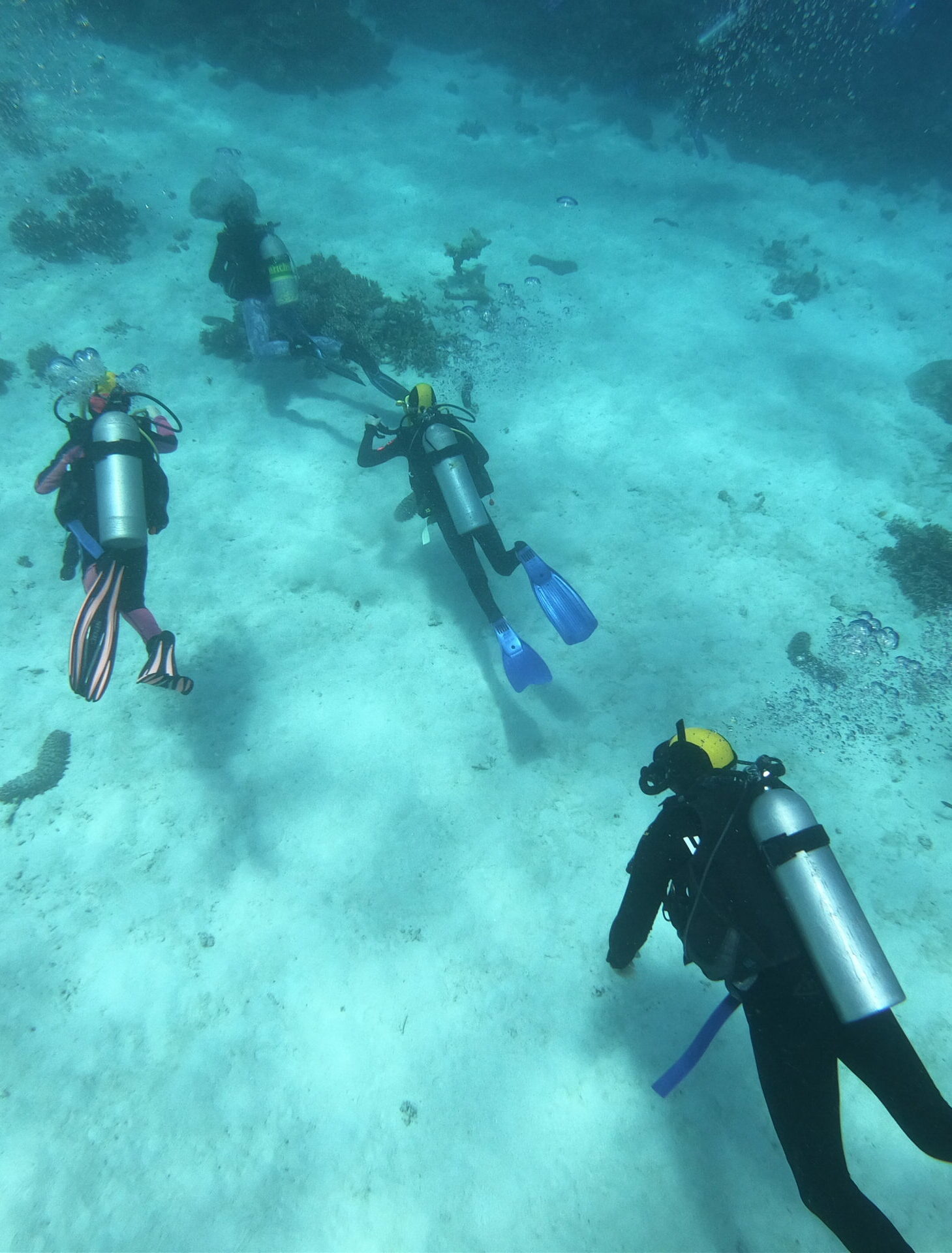 Day Four
We woke to another beautiful sunrise, and the boat then took us to another dive location for our first dive of the morning at 6.30am.
We again saw lots of amazing sea life including some huge coral trout that let us come right up to them to observe.
We dove through a few little caves, and had a blast exploring the ocean. We then headed back for another hot breakfast, fresh fruit salad, and some free time.
Our final dive of the trip was at 11.00am, followed by lunch as we headed back to the mainland, arriving back into Cairns in the afternoon.
Learning to Scuba Dive is one the best experiences you or your family will ever have. Once certified you can dive anywhere in the world, think of the memories you will make.
The Padi Dive certification has been an incredible learning experience, it's the first time I've seen my children so committed, excited, and thrilled to learn something new. Best of all, it's something we have learned together as a family, and that is priceless in itself.
We are all still talking about the trip, researching new diving spots, and creating a bucket list of dives that we would like to do together. Both children want to get further certifications as they get older, and I can see both of them using this certification to enjoy life well after moving out of home.
It's indescribable how special this underwater world is, and the only way you will find out what I'm talking about is if you take the plunge and get certified too. 
Talk to your nearest PADI Dive Centre or Resort to find out more or visit www.padi.com to locate one near you. If you live in FNQ, chat to the team at Pro Dive Cairns and find out more at www.prodivecairns.com.au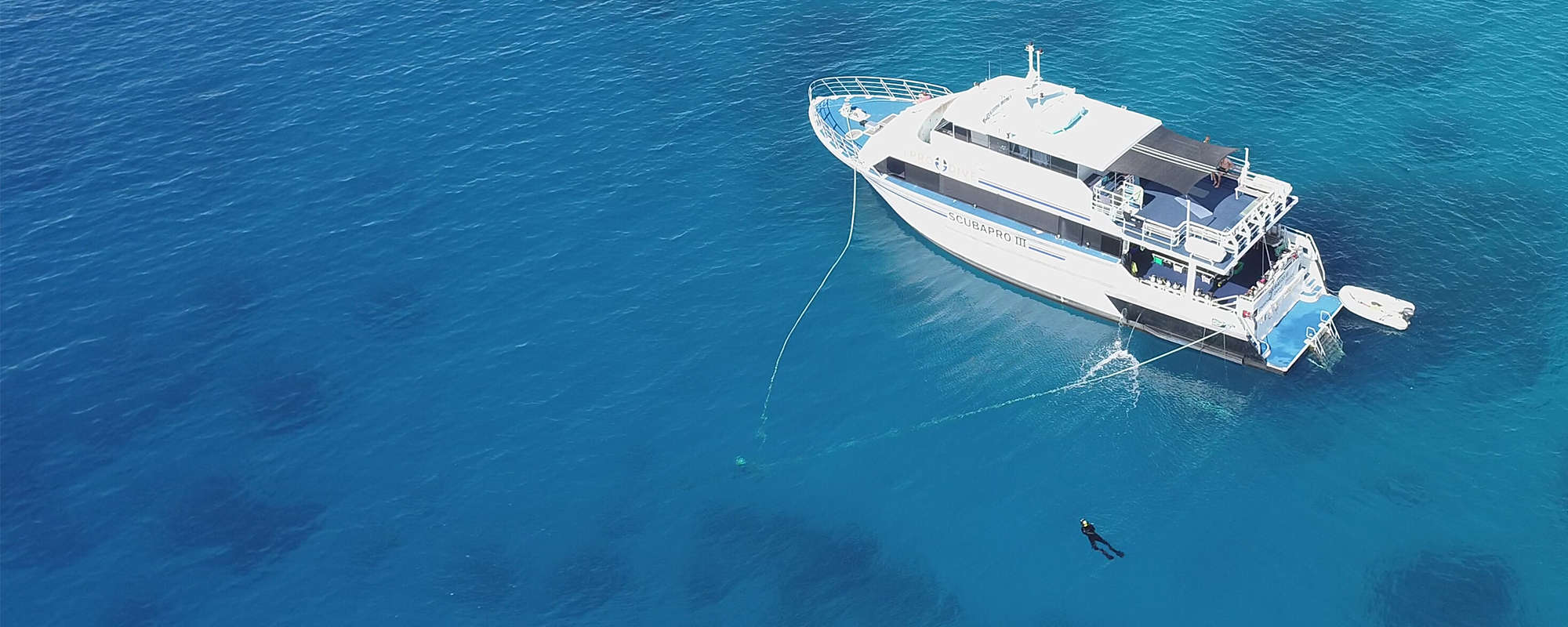 Inclusions
9 Dives 

PADI Gold Open Water Certification 

PADI Open Water manual

Dive log book

2 Passport photos 
Food and Drinks (Liveaboard)
Fully catered buffet style, freshly prepared meals

Unlimited tea, coffee and Milo 

A range of dietary requirements can be catered for when notified in advance

No bottled water is kept on board; personal drink bottles and filtered chilled water is available

Soft drinks, fruit juice, and chocolate bars are available at additional cost
Price
The four day course is $1030.00 – $1085.00 per person. It includes e-learning, one day of equipment and safety training, and three days / two nights on the reef. This stay includes meals, equipment hire, and nine dives (4 training dives and 5 pleasure dives – including one night dive). 
Vessel Amenities
Free WiFi

Air-conditioned cabins and saloon

14 twin bunk bed cabins and 2 double bed cabins (enquire on booking)

All bedding supplied

Freshly prepared meals 

Hot freshwater showers
The Pro Dive Cairns Team is sure to look after you, and get you and your family Scuba certified.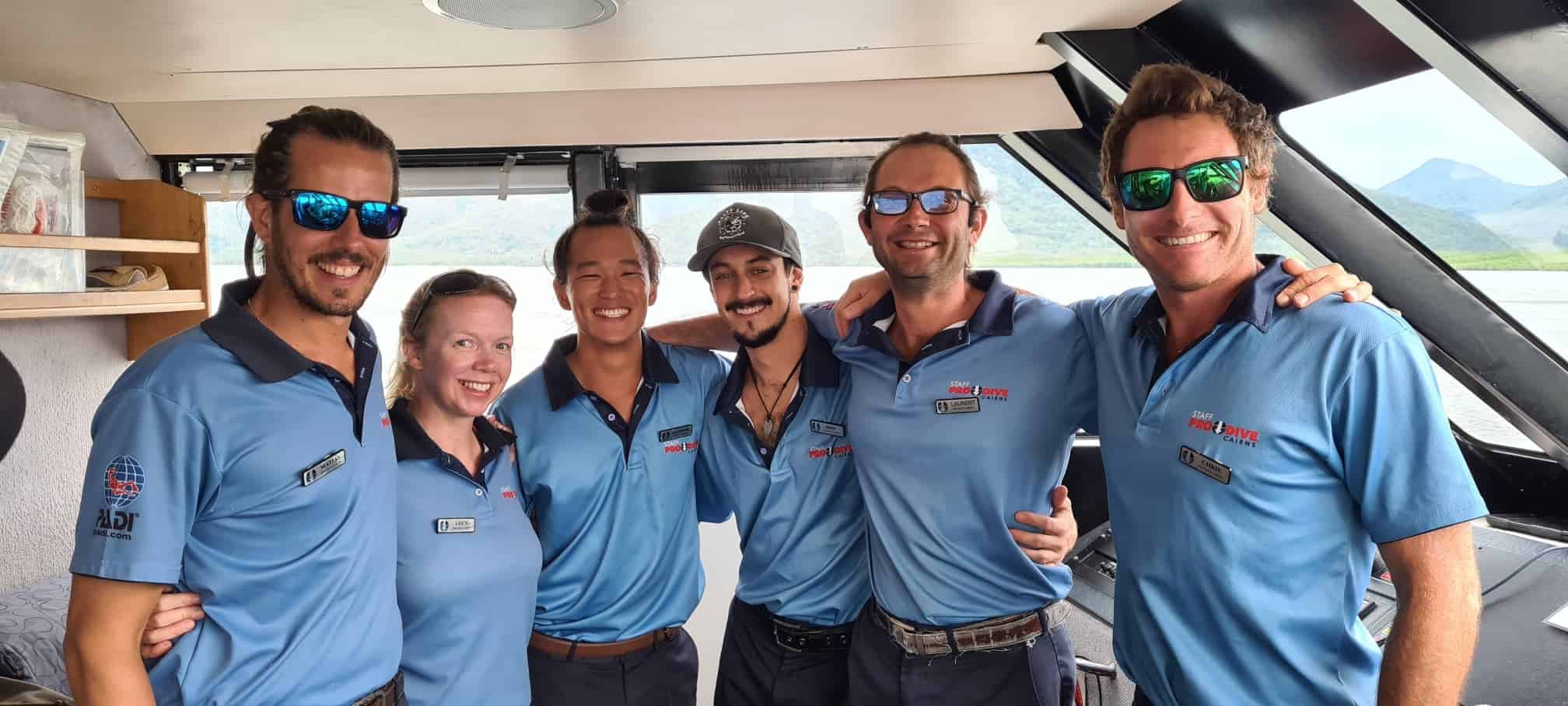 Check out our vlog, and see just how diving deep helped us build a better connection.