Camping is the perfect opportunity to get back to basics, so we've had the Stephanie Alexander Kitchen Garden Foundation provide an ingenious way to get baking with a little bush tucker thrown in the mix. This recipe comes to us from Rebecca Sullivan and Damien Coulthard of Warndu, a social enterprise regenerating culture, community, tradition and health using native Australian food.
Soda bread is a quick and simple loaf to make campside as it doesn't require yeast to rise. If you're heading far and wide into some arid salty or dry lands, you'll likely come across saltbush. By using saltbush, you'll walk away with a delicious aromatic, salty, and slightly earthy flavour.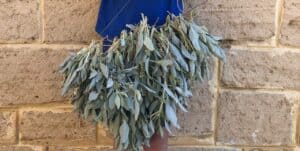 Depending on how far you're going, this recipe can also utilise muntries and sea rosemary. Muntries are a small, crunchy fruit with a spiced apple flavour that can be found growing in South Australia. And sea rosemary can be found growing along the Australian coast and has a sweeter, lighter flavour than traditional rosemary. If you can't access sea rosemary or muntries, try using other bush tucker ingredients like bush tomato or wattle-seed. 
Ingredients 
340g wholemeal self-raising flour 
340g plain flour, plus extra for kneading 
3 tsp ground dried saltbush leaves 
1 tsp bicarbonate of soda
Pinch of salt 
580ml buttermilk or long-life milk
1 tbsp saltbush seeds, for topping 
Olive oil to drizzle 
Optional Ingredients
1 sprig sea rosemary, finely chopped
2/3 cup muntries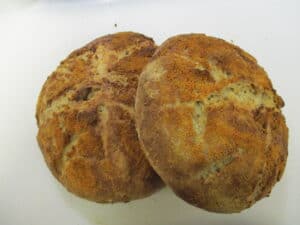 2. Combine the wholemeal self-raising flour, plain flour, saltbush, bicarbonate of soda and a pinch of salt in a large bowl.
3. Make a well in the middle of the dry ingredients and pour in the buttermilk and muntries. Mix quickly with a fork to form a soft dough, adding more milk if the dough is too dry or a little more flour if the dough is too sticky. 

4. Turn the dough out onto a lightly floured surface and knead briefly. Be mindful to not over-knead or it will be hard as a rock when baked.
5. Form the dough into a round loaf or several mini loaves and use your hands to flatten slightly.
6. Place the loaf onto a large square of silver foil. Cut a cross on the top of the loaf and lightly brush with olive oil. Sprinkle with the saltbush seeds and sea rosemary.
7. Wrap in foil and bake for about 30 mins on a camp oven or 20 minutes on an open fire, or until the soda bread is golden brown and sounds hollow when you knock the bottom.
To find more bush tucker recipes, head to Warndu  www.warndu.com/blogs/recipes 
The Stephanie Alexander Kitchen Garden Foundation provides the inspiration and framework for educators to deliver pleasurable food education to children and young people across their learning years.