Literacy is the ability to read, view, write, listen and speak to communicate and make sense of our world. It's understood that parents and carers make a big difference in their child's interest and development of literacy, which enhances a child's performance at school.
Despite having the greatest effect in the early years before and during school, parental involvement continues to have an impact throughout secondary school. So, how can parents and carers help? Here are some ideas to assist in the development of reading and writing for each age and stage.
Babies and Toddlers
Talking with your baby about everything that you see and hear (the weather, the washing, the groceries etc) and asking your baby questions when you are playing and caring for them is vital.
Through listening to the intonation of your voice as you speak, your baby begins to learn words and the way in which language operates. It is also great to sing and read books to your baby daily.
When you hold your baby, read and look at a book, this gives your baby safe and confident exposure to books, and you can do this from birth. Singing nursery rhymes teaches your children language, rhyme, repetition and rhythm.
As your baby grows, encourage your baby to hold the books you read to them. They will have favourites, so be prepared to read them repeatedly!
Repetition allows toddlers to understand story patterns. Providing drawing materials early on is also an important part of literacy development as early squiggles and marks are the beginning of writing.
Kindergarteners and Preppies
Keep talking with your pre-schoolers and ask lots of questions. Rich oral language experiences are essential for effective literacy progression.
Dinner time conversations about your day and your child's day provide a perfect opportunity to expand your child's vocabulary. Whenever you are out and about, point out environmental print to your child – road signs, shop signs and food labels.
This highlights the purpose and importance of reading and writing, and makes it meaningful for children.
Writing thank-you notes, shopping lists, family messages, family love letters and jokes helps to instil a passion for writing. Instead of only buying toys, ensure you give your children some books for birthdays and Christmas.
It is also a great idea to instil daily reading habits with your child. Make this a time that they really look forward to and allow them to make choices about what you read together.
Once your preschooler has home readers, use the guidelines from your school to assist your child to read their book. These guidelines will include strategies such as looking at the pictures, noticing sight words and paying attention to punctuation.
They will also involve strategies of 'reading on' if unsure of the word and collecting other clues; going back to the beginning of the sentence and re-reading; and asking "What do you think would make sense here?"
Keep in mind that home readers are easy so children can practise reading with fluency and intonation. This helps them to feel confident in their reading skills. It is a great idea to continue reading high quality literature to them on top of these home readers.
Preps will also be sent high frequency (or sight) words to learn at home. Sight words are predominantly memorised through the daily reading of them with your child. Our best advice is to keep this homework fun and stress-free by making it a game where possible.
Playing games like I Spy, memory, and other word and image games where they can focus on letters and sounds assists children to develop their knowledge. Building up a bank of memorised high frequency words is essential to the progression of reading and writing.
Providing drawing materials and encouraging your child to draw often (and label their drawings and tell you about the story in the drawing) is also a great way to improve their literacy skills.
Primary School Children
Throughout the primary years it is important that children continue to have access to quality literature at home through your local library or personal collection.
The Children's Book Council of Australia (CBCA) produces an annual list of the Book of the Year Awards shortlist and winners which are recognised as quality, these are a good starting point for parents.
Reading together is the best way to continue to encourage a love of books and cement the foundational literacy skills in your child.
Reading books before watching movies of the same title can assist in motivating reluctant readers to try the book first.
Daily home reading will continue throughout the primary years and your child will need your support to be successful. Continue the daily routine (without excuses) and make it a fun, positive and special time together.
Take an active interest in your child's learning and monitor their success with their homework. Check in regularly with your child's teacher to determine their progress, to view their work and to ask what else you can do at home to support your child.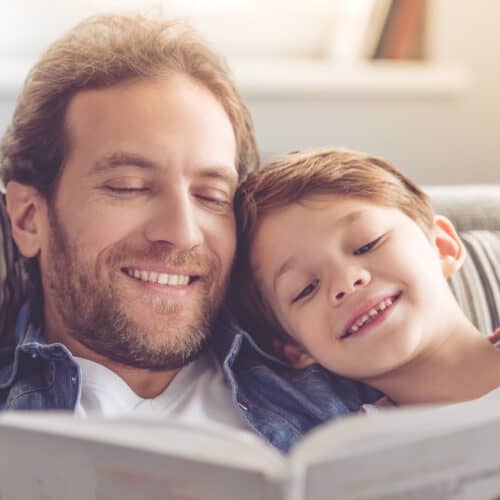 Secondary School Tweens and Teens
Your job isn't done yet parents, this is a time to continue to take an interest in your child's schooling. Increasingly deep and robust conversations about world topics and your child's opinions will be needed to maintain confidence and interest levels in literacy.
Plan outings and holidays together, get them to assist by doing research and determining what's best for the family. Ask questions about school learning and assessment. Know when your child has assessments due and ask your child to discuss their work with you.
Offer to read their work and give feedback. Maintaining an interest in what your child is studying is the key. Going book shopping or borrowing together gives your mature child the message that reading is important throughout life. Read the same books at the same time and discuss them together – you could start your own mini book club!
This teen time is all about keeping the lines of communication open with the school. This will enable you to be aware of any difficulties your child may be experiencing, and in which ways you can help. Helping your children to be successful in literacy is one of the most important jobs you will ever do as a parent. Inspiring a love of literacy will stand your child in great stead for many years to come.
Rachael Hood and Amanda Banister are System Learning and Teaching Advisers at Catholic Education.
Between them they have sixty plus years of experience in teaching, leadership and as advisers to schools. Their current work is focused around improving student outcomes in schools, building teacher capacity and aligning systemic initiatives.
Both Rachael and Amanda have a passion for literacy learning andteaching and are currently leading a two-year writing project with several Diocesan schools.