Overcoming Obstacles with Business in Heels
Women in Business have never had it easy, something that Business in Heels Co-Founder Lisa Sweeney knows all too well. After experiences of being doubted, treated with less respect than men, and treated 'less-than' overall, Lisa recognised how easily the corporate world could negatively impact women in several ways, chipping away at the drive and passion that propelled women to achieve their goals in business in the first place.
"After a long corporate career, I was frustrated that no matter how you looked at it, women were struggling to achieve their goals and especially struggling to find that balance between work and motherhood. In my travels, I had seen this amplified in countries like Bangladesh. The women did not typically participate in business discussions."
"I would find myself being overlooked in boardroom discussions or business deals because I was female."
Lisa knew she didn't want other women to start from scratch and have to struggle their way up to the top, with the usual, unnecessary pitfalls and roadblocks along the way due to their gender. Instead, she Co-Founded Business in Heels. It's a network of over 160,000 women all supporting each other in their pursuit of success in female-led companies, bridging the wage gap between women and men, overall business success and retirement funds.
"These experiences and my passion for championing the success of others pathed the way to co-founding Business In Heels. It is our mission at Business In Heels to help female-led businesses pivot, digitise and future proof through our Business Building Bootcamps.
"We are enabling business and professional success through and for women. We help them gain clarity. And, we help them become focussed and achieve success through our key services of mentoring, education, connection, and marketing. Not to mention our mentor mornings, coffee connection sessions, events, and summits!"
Business in Heels Bootcamp
Now, for over five years, female success has been championed through the Business In Heels Bootcamp. The program is full of vital information, resources and mentoring.  
Townsville local Amanda Carr was inspired to become a part of the movement where she made meaningful connections with women much like herself. "Networking has always been important to my business. As a self-employed woman, it was wonderful to spend time with like-minded women in a fun and social environment where you can make connections and long-term friendships. The building of relationships with peers and other business-minded people is always a positive. At the [Business In Heels] events you will hear from keynote speakers, learn a new skill or just mingle and make a new friend. There's nothing but good outcomes."
The COVID Crisis of 2020
As we all know, life is unpredictable, and things don't always go as smoothly as you'd like them to. The COVID-19 pandemic has hit not just individuals and families hard, but many businesses too, particularly those that are smaller. Despite facing such a unique challenge, Lisa and Business In Heels did not hesitate when it came to thinking of ways to support their community.
"We believe connection is vital during periods of crisis. We have also been running coffee connection sessions online for our community. This is in addition to launching the Random Acts of Kindness Initiative."
But the support didn't stop there. "Early on we extended our Business Building Bootcamp program to all our members. It is a robust course of 12 lessons to allow business owners to work on their business, to digitise and systemise it. This was a significant investment on our part as it comes with 24/7 access to trainers. For those that needed accountability and connection, we delivered the Bootcamp version. It had weekly meetings to debrief and workshop. We also lowered our prices and invested over $60,000 to make our education and support accessible so we could help as many as struggling businesswomen as possible."
Random Acts of Kindness Initiative
"Random Acts of Kindness is a crowdfunding campaign. It aims at encouraging those in a position to, to band together and support local female-led organisations doing it tough. 100% of donations go to educating those that are currently on the Business Building Bootcamp waitlist. Thanks to the generous contributions of so many, we have been able to educate two groups of struggling businesswomen. Plus, we have gifted access to our online services and support to 25 women throughout coronavirus."
Amanda was one of the lucky women who were invited to participate in the Business Building Bootcamp, saying, "I can say it has been one of the most positive and best personal growth experiences in 10 years of working for myself. The program is structured with regular face to face (via zoom) sessions. There you get to work with other women in business, share ideas and hear feedback in real-time. The timeframes and deadlines were great for a procrastinator like me (I only want to the do the fun stuff). Being able to really work on The Pink Tribe has been an invaluable experience."
"I know coming out of this event I am even more ready and prepared to assist businesses. Overall, individuals find their inner sparkle so they can be the best version of themselves. You can either donate to the campaign so you can pay it forward or contact Business in Heels to find out more about participating."
The Business Advice (Crisis or no Crisis!)
Amanda is the definition of self-starter – going from little to large. When asked what an important message she had for female business owners was, she says, "Live life with no regrets. I quit my job 10 years ago with $89.00 in the bank and NO PLAN B. This was a great motivator to just get on with it. I have since built 2 successful businesses and am now launching my next adventure. THE PINK TRIBE which is my true passion and purpose. #noregrets.
"A lesson I have learnt from business is that it's not personal. Everyone is just doing themselves, making sure they are ok, their family is safe, they are looking out for themselves. Even though the actions of others may sometimes affect you, it is not about you. If you just take yourself out of the situation it makes it a lot easier to deal with life. Also, I know the secret to life… just breath, cause if you stop, you're dead!!"
We asked Lisa the same questions, and she delivered some of her own business-wisdom.
"If you want to go fast, go alone, if you want to go far, go together. Either running a business or building a career is not easy. You need a cheer squad around you who understand your challenges and who are there to support you. Giving is easy but asking for help can be hard!"
"If you're looking to launch a business, don't try to do it all yourself. Don't expect to be an expert about everything and try surround yourself with others who you can collaborate with."
Want to learn more about Business In Heels? Click HERE.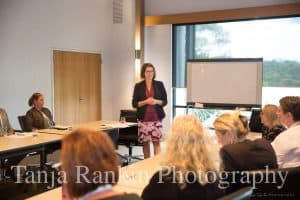 Above: Lisa Sweeney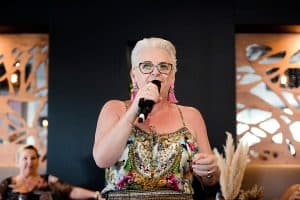 Above: Amanda Carr