Does your child love to draw? Do they want to work in animation or illustration? Are you wondering where to start or how to nurture their creativity?
PakMag was lucky enough to sit down with Beth Harvey, Animation Director for Ludo Studio's kids show, Bluey! We wanted to know what it's like working on such an amazing show, how she got started and discuss one of her latest projects – illustrating a new children's book; The Bark Book.
You have a very exciting job as an animator on the hit children's program Bluey. But, when did you know you wanted to become an animator?
I knew at the age of 15. I saw a behind the scenes documentary about working in Studio Ghibli's animation studio, and that was when I realized that I could draw for a living. I started buying animated movies, like Disney and Pixar that had behind the scenes specials and I would watch them constantly. I knew then that I was hooked and wanted to learn how to be a 2D animator, and work in film and TV.
How did you get into it?
When I knew this was what I wanted to do, I told my parents and they were completely on board with it and supported me. While at high school, I enrolled in an online TAFE course. After that, I entered an animation competition and came runner up, winning a ticket to an acting for animator's workshop. I then went to University and received a Bachelor of Animation at Griffith's Queensland College of Art.
After Uni, it took me two years before I got my first job. The Episode Director saw my portfolio website and sent me an email saying that he loved my timing and style and asked if I would like to go over and work on Mr Bean – the second animated series in London!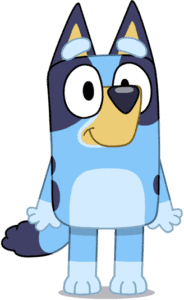 What's it like working on Bluey?
Oh, it's a dream come true to work on a show like this, because it's an absolute height of creatives. There are so many inspiring, artistic and humble people that work on this show.
I'd always said at Uni that I wanted to make great cartoon shows for kids, and to look at the one that I'm working on now… it's just unbelievable really.
How long does it take to put one episode together?
From start to finish it takes around five months because there's so many steps – script writing, storyboarding, cutting, art direction, design and background. A lot of work goes into, so it's really rewarding to see how much people love this show and how much they relate to it as well.
You have now started illustrating books, how did that come about?
The head of Australian Children's Publishing at Harper Collins found me online through my Instagram and the comic strips that I create about my dog and I called ''Mini and Boo". She brought up a book that she thought was my style, also about a dog, called "The Bark Book". Funnily enough, two months before she had contacted me, I was investigating how I could get into illustration for kids!
So, tell us about The Bark Book
The Bark Book is mostly about a dog and its different types of barks, but there is a symmetry between the dog's bark and the bark of a tree. When it talks about the dog's sad bark for instance, you'll see a hidden tree with a sad face in it. It's extremely expressive and full of heart.
What advice, have you got for children interested in a career in animation and illustration?
Draw and keep drawing, even when your drawings aren't good. I actually wasn't very good at drawing when I was younger. It's definitely about practice, and I think that the only way to get better is to put time into it. Try online tutorials. Put your work online. Chasing a career in animation and illustration can be quite difficult but it's 100 percent worth the effort. Because, to be able to love what you do every day, I believe that makes you a happier person in general – we spend five out of seven days at work and to look forward to getting up every day to go to work makes life more enjoyable.
For more on Beth's journey into animation and illustration and her tips for aspiring artists, listen to our full conversation with Beth on Episode 108 of the PakMag Parents Podcast.
Some Great Resources and Tools for Learning to Draw, Paint and Animate
Schoolism
www.schoolism.com is a wonderful website where you can pay a subscription to follow recorded courses in different areas of the industry – and you're learning from industry professionals.
Krita
Krita is a professional, free and open source painting program. It is made by artists that want to see affordable art tools for everyone. www.krita.org/en
Adobe Animate
Design interactive animations for games, TV shows and the web. An app for animation makers of all ages, helping beginners go from a storyboard to animation. www.adobe.com/au/products/animate
Adobe Photoshop
From photo editing to digital painting, animation and graphic design — you can do it all in Photoshop. Bring ideas to life across desktop and iPad. www.adobe.com/au/products/photoshop
Great Books on Animation

The Animator's Survival Kit by Richard Williams

Timing for Animation by Harold Whitaker
Win a Copy of The Bark Book by Victoria Mackinlay and Beth Harvey Worth $19.99
A charming new picture book, full of barks and plenty of heart. Dog bark. Tree bark. Let's go see bark. The perfect picture book for animal-lovers and nature-lovers everywhere, from rising stars Victoria Mackinlay and Beth Harvey. – www.harpercollins.com.au
Visit www.pakmag.com.au/win for your chance to win! Competition closes 31/08/2021