35 Efficient Ways to Save Money in a Large Family
35 Efficient Ways to Save Money in a Large Family
Budgeting with a large family can prove to be a challenge. There's school fees, toys, clothes, and the food – the never-ending food! Here are some top tips to help you save money:
1. Grow your own veggies and fruit.
2. Buy ingredients in bulk.
3. Invest in a slow cooker and lots of plastic containers to save/freeze meals.
4. Shop local – local produce is often much cheaper than supermarket bought.
5. Write a list before going shopping and stick to it.
6. Avoid frequent takeaway meals.
7. Eat less meat – swap it out sometimes for protein-packed foods such as beans.
8. Buy quality appliances that will last.
9. Maintenance those appliances regularly.
10. Plan your meals around your grocery store's weekly deals.
11. Eat leftovers – and make them tasty!
12. Use coupons when getting groceries.
13. Make school lunches at home.
14. Use reusable water bottles and bottle your own water.
15. Go grocery shopping on a full stomach so you won't be tempted to buy anything you don't need.
16. Go thrift shopping.
17. Go to garage sales.
18. Hand down clothes of older siblings to younger ones.
19. Repair clothing instead of throwing it out.
20. Get the kids to sort through their toys and clothes and find stuff they no longer want. Then plan a garage sale!
21. Swap out video games that aren't being played – game stores often pay for second hand games.
22. Shop with cash or debit cards, not credit cards.
23. Take short showers (5 minutes or less).
24. Cut your own hair – or get somebody else in the house to do it (if you trust them).
25. Create budgets for everything – meals, holidays, groceries, etc.
26. Sign up for all the customer reward programs you can.
27. Make your own gifts instead of buying from the store.
28. Don't spend big money entertaining your children; there are plenty of fun things to do for free as a family.
29. Avoid spending money when you feel stressed.
30. Cancel unused memberships.
31. Get holiday shopping done right after the holiday is finished.
32. Carpool where possible.
33. Suggest cheap activities when making plans with friends and family.
34. Get your car serviced regularly to avoid high bills in the future.
35. Keep up the good work!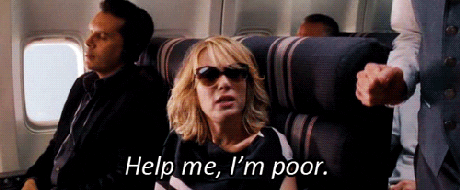 https://media.giphy.com/media/ld10X9zBw1MvC/giphy.
Saving money is easier said than done, that's for sure. As long as you're trying – well done! Keep it up, and eventually your efforts will show.